MB Seminary Devotional Books
MB Seminary works together with MB national and provincial leaders, pastors and others with MB churches to produce devotional books that are beneficial for families and individuals. These devotional books are issued for the Advent season leading up to Christmas and the Lent season leading up to Easter. Traditional themes are usually incorporated, sometimes making use of the Revised Common Lectionary, and other times providing an alternative plan (for example, this spring the Easter devotionals will guide the reader(s) through the entire Gospel of John).
We welcome your feedback as the purpose of these books is to serve you and your families and churches. if you have skills and interest in writing or know of someone who does, please forward that to Jeff Peters. We may not always be able to include everyone's contribution, but we certainly welcome your interest. MB Seminary
Christmas Devotional Book
Coming Soon!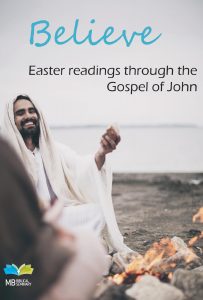 2017 – Easter
During the season of Lent in 2017, we invite you to read the Gospel of John with us and take time to reflect on stories and insights 47 different authors have provided. These portions of Scripture will be a little longer than our previous books, but you won't regret the time you give to God. Hear afresh the Lord Jesus calling:

I am the resurrection and the life.
The one who believes in me will live, even though they die;
and whoever lives by believing in me will never die.
Do you believe this?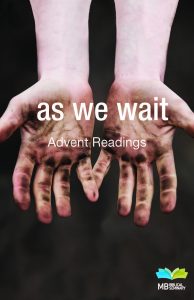 2016 – Christmas
The non-traditional Christmas graphic on the cover of this devotional book reflects the posture of action in Advent. As we considered the Scripture readings taken from the Revised Common Lectionary, we were prompted to inspire you to think about this season of "waiting" in active ways (i.e. getting your hands dirty). The booklet is titled "as we wait" and carries an unfinished sentiment that invites you to anticipate the coming of Jesus in active ways that are consistent with what we are truly waiting for. Our contributors will challenge you to participate in four sub-themes as you work through the four weeks leading up to Christmas: Watch, Prepare, Proclaim, and Worship.