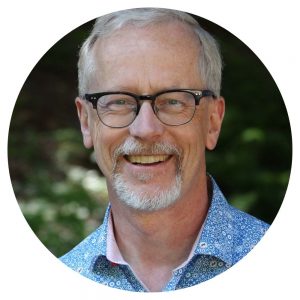 Andrew Dyck, PhD
Assistant Professor of Christian Spirituality and Pastoral Ministry
Five themes have persisted through Andrew's adult life and work: higher education, classic (not only classical) music and liturgy, listening prayer, church, and family. In his role with MB Seminary, these themes coalesce in his enthusiasm for helping beginning and seasoned pastors deepen in their spiritual, intellectual, pastoral, and human formation. Andrew also enjoys serving churches with workshops and preaching.
Andrew was baptised as a teenager upon his confession of faith. His three years at Mennonite Brethren Bible College in Winnipeg expanded his capacity for studying the Scriptures, and viewing all of life as service to God. He worked for eight years as a physiotherapist in Winnipeg's Health Sciences Centre and Children's Hospital, before going to seminary. Afterwards, he served for 16 years as a pastor in Abbotsford, BC: first with King Road Mennonite Brethren Church and then with Highland Community Church. He has spent many years receiving spiritual direction and has also offered direction to others.
Andrew is married to Martha, an elementary music specialist. They have three sons—two of whom are married—and two granddaughters. Martha and Andrew are part of Westwood Community Church and Winnipeg's Imago Dei group.
Bachelor of Medical Rehabilitation (Physical Therapy) | University of Manitoba
Master of Arts in Church Leadership (Congregational Worship and Music) | Eastern Mennonite Seminary
PhD in Theology (Christian Spirituality) | Vrije Universiteit Amsterdam
PhD dissertation: Praying Like the Catholics? Enriching Mennonite Brethren Spirituality through Spiritual Direction, Lectio Divina, and the Taizé Community
Other Training
Bible and theology, music, and sciences | Mennonite Brethren Bible College and University of Winnipeg
Certificate in The Art of Offering Spiritual Direction | SoulStream, Abbotsford
COACH Model Training (basic and training trainers) with Terry Walling | Leaders2Learners, Saskatoon
The following is a sampling of Andrew's publications:
Book Review of The Russian Mennonite Story: The Heritage Cruise Lectures by Paul Toews and Aileen Friesen, Journal of Mennonite Studies 37 (2019), 407-409.
"Fresh Air for the Good House of Menno: The Holy Spirit among Canada's Mennonite Brethren" Direction 47:2 (Fall 2018): 207-228.
Book Review of The Global Diffusion of Evangelicalism: The Age of Billy Graham and John Stott by Brian Stanley, Direction 47:2 (Fall 2018), 278-280.
"Marriage, Singleness and Family: Reflection on the Confession of Faith." Mennonite Brethren Herald (Summer 2018), 15.
Dyck, Andrew, Elenore Doerksen, Jon Isaak, Angeline Schellenberg, eds. Family Matters: Discovering the Mennonite Brethren. Canadian Revised Edition. Winnipeg: Kindred Productions, 2017.
Cooper, Brian and Andrew Dyck. Ordination: Principles & Practice. Winnipeg: Board of Faith and Life, Canadian Conference of Mennonite Brethren Churches, 2017.
Dyck, Andrew and Ingrid Reichard. "God, Sex, and Church: Why?" Direction 45:2 (Fall 2016): 122-135.
"Doing Theology as a Spiritual Practice: Re-engaging Ordination." Mennonite Brethren Herald (July 2016), 14-15.
Book Review of "German Baptists in Southern Russia" by Johann Pritzkau, Direction 44, 2 (Fall 2015): 221-224.
"Prayer: Who Answers Whom?" The Messenger, July 2015: 10-11; revised in Mennonite Brethren Herald 54, no. 7 (August 2015): 22.
"Sowing Seeds or Tossing Nutshells? Speaking of Jesus." Mennonite Brethren Herald52 no. 10 (October 2013): 14-16. Republished (and revised) in MB Chinese Herald, The EMMC Recorder, The Messenger, and Christian Leader.
Isaak, Jon and Andrew Dyck. "Mennonite Brethren Confessions and Mission." Direction 41:1 (Spring 2012): 34-41.
"The MB Genome Project: Exploring the Evangelical Anabaptist Helix." Mennonite Brethren Herald51, no. 2 (February 2012): 12-14.
Guest editorial on Mennonite Spirituality. Roots and Branches: Periodical of the Mennonite Historical Society of BC18, no. 1 (February 2012): 2.
"Can the Centre Hold? Conversion in Mennonite Brethren Spirituality." In Renewing Identity & Mission: Mennonite Brethren Reflections After 150 Years, edited by Abe Dueck, Bruce Guenther and Doug Heidebrecht, 165-183. Winnipeg: Kindred Productions, 2011.
"Herb Neufeld: He Opened Doors and Pushed Out Walls." In Leaders Who Shaped Us: Canadian Mennonite Brethren— 1910-2010, edited by Harold Jantz, 255-271. Winnipeg: Kindred Productions, 2010.
"Mennonite Brethren and Contemplative Practices." Roots and Branches: Periodical of the Mennonite Historical Society of BC16, no. 3 (October 2010): 18-19.
"Guide to 'Treasures Old and New.'" Review of 1 & 2 Timothy, Titusby Paul Zehr (Believers Church Commentary Series), Mennonite Brethren Herald 49, no. 8 (Aug., 2010): 34.
"Praying the Blessing of Psalm 110: A Response." Baptistic Theologies1, no. 2 (Autumn 2009): 17-23.
Review of The Brazos Introduction to Christian Spiritualityby Evan Howard, Communio Viatorum: A Theological Journal51, no. 1 (2009), 106-113.
"Examine the Day: I John 1:8-2:2, 3:18-24." Mennonite Brethren Herald46, no. 11 (Nov. 2007): 18.
A More Excellent Way: Christian Marriage in the World (We Believe Pamphlet Series). Winnipeg: Board of Faith and Life, Canadian Conference of Mennonite Brethren Churches, 2006.
"Come Away: Worship Leaders and Youth Workers Meet for Contemplative Prayer Retreat." Mennonite Brethren Herald43, no. 1 (Jan. 16, 2004): 4-5.