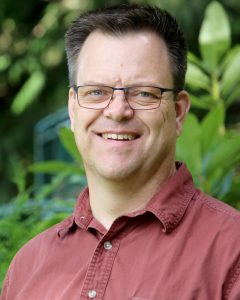 Brian Cooper, PhD
Director of Student Development
Associate Professor of Theology
EDUCATION
University of St. Michael's College (Ph.D., 2006); Theological Ethics.
– Thesis Title: "Human Reason or Reasonable Humanity? Balthasar Hubmaier, Pilgram Marpeck, and Menno Simons and the Catholic Natural Law Tradition."
Wycliffe College (Th.M. 2001); Theology;
– Thesis Title: "Neither Sociology Nor Socialism: The Evangelical Social Agenda of the Baptist Convention of Ontario and Quebec, 1900-1945."
Northwest Baptist Seminary/Trinity Western University (M.Div., 1991).
University of Manitoba (B.Sc., 1988).
Present Position: 2011-
MINISTRY EXPERIENCE
2011-Present: Associate Dean, Mennonite Brethren Biblical Seminary-ACTS; Assistant Professor of Theology, MBBS Canada.
2008-Present: Adjunct Faculty; ACTS.
2007-2008: Sessional Lecturer, Columbia Bible College, Abbotsford, BC.
2006-2011: Pastor of Family Ministries, Northside Community Church, Mission, BC.
2006: Adjunct Instructor, Tyndale University College and Seminary, Toronto, ON.
2003-2006: Administrative Support Worker, Ambrose Seminary-Toronto.
2000-2003: Chaplain, Allied Systems Canada Limited, Bramalea, ON.
1999: Interim Youth Pastor, Brookswood Baptist Church, Langley, BC.
1995-1999: Youth Pastor, Delbrook Baptist Church, North Vancouver, BC.
1991-1995: Youth Pastor, McDermot Avenue Baptist Church, Winnipeg, MB.
SCHOLARLY PUBLICATIONS
"The Power of Conscience and Witness: Natural Law in Pilgram Marpeck's Thought on Church and State," in Jeremy M. Bergen, Paul G. Doerksen, and Karl Koop, eds., Creed and Conscience: Essays in Honour of A. James Reimer (Kitchener, ON: Pandora Press, 2007).
POPULAR PUBLICATIONS
"God Saw That It Was Good: Toward a Theology of Creation," Mennonite Brethren Herald Vol. 50 No. 1 (January 2011): 8-9.
"Pills, Prayers and Priorities: Keys to Making Good Ethical Decisions," Mennonite Brethren Herald Vol. 46 No. 8 (August 2007): 9-10.
WHAT DRIVES BRIAN
Every Christian is a theologian. Brian's passion is to help believers do theology well and to understand how to engage cultural issues, theological and historical texts, and Scripture deeply in order to meaningfully bring Kingdom values to bear on their context and impact their world for Jesus Christ.
PERSONAL INFORMATION
Brian has been married to Connie since 1994, and they have three children: Lauren (deceased), Nicole (age 10), and Austin (age 8). His hobbies are roasting and brewing coffee, mechanical pocket watches, and fountain pens. For exercise, he enjoys cycling, exercising on his cross-country ski trainer, and playing softball and hockey. Brian is also a bit of a car nut and backyard mechanic.