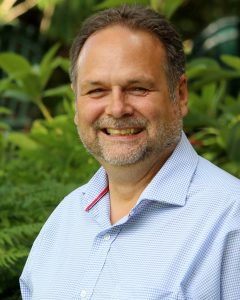 Pierre Gilbert, PhD
Associate Dean – Winnipeg
Associate Professor of Bible and Theology
Pierre Gilbert is originally from Quebec City. He earned a Bachelor of Religious Education and a MA in Old Testament from Providence College and Seminary. He completed a Ph.D. in Old Testament at the Université de Montréal. Pierre pastored an English-speaking church in Waterloo (Quebec) from 1984-1986 and taught from 1986-1996 at École Théologique Évangélique de Montréal (a MB theological College affiliated with l'Université Laval).
He taught Old Testament at the Mennonite Brethren Biblical Seminary in Fresno, California from 1996-1999. He presently teaches for Canadian Mennonite University and MB Seminary in Winnipeg, Manitoba. He is presently Associate Dean for MB Seminary at CMU.
Pierre's academic interests focus on the Old Testament and biblical theology. He is presently working on a book in which he explores the implications of using Genesis 1-3 as a theodicy to help resolve some of the fundamental problems linked to the reality of evil in our world. He regularly contributes articles to various journals and magazines. He is the author of Demons, Lies, & Shadows. A Plea for a Return to Text and Reason. Pierre is married to Monika. They have three grown children: Pierre James, Rachel, and Stephen.
Pierre attends Fort Garry MB Church and is regularly invited to speak in churches and other settings.
Areas of Teaching
Biblical Studies
Education
Ph.D., Université de Montréal (1994); M.A., Providence College and Seminary (1981)
Work in Detail
Teaching
Pierre has most recently taught the following courses:
The Prophets of Israel
The Problem of Evil in a Biblical Perspective
Wisdom Literature
Introduction to Biblical Literature and Themes
Peace and Justice in a Biblical Perspective
Biblical Language for Exegesis Tools
Research
"He Never Meant for Us to Die! An Incursion into Genesis 1-3." Direction 41 (2012):42-56.
"Fighting Fire with Fire: Divine Nihilism in Ecclesiastes." Direction 40 (2011):65-79.
Do You Want to Get Well?" Mennonite Brethren Herald. Vol. 52 (April 2013):18-19.
"Power to Face the World." Mennonite Brethren Herald. Vol. 52 (January 2013):20-21.
 "The Song of Solomon. What is it Good for?" Qur'an and Injil. Reflections on Qur'anic texts and Commentary (blog). 2012/10/16. http://quranandinjil.org/node/142/.
Community
Over the years, I have taught seminars in a variety of settings across Canada. I have most recently offered seminars on the following topics:
The Problem of Prayer. Studies on The Lord's Prayer, Habakkuk, and James 5.
Pacifism in a Biblical Perspective.
Choosing the Way of Life in an Age of Freedom. A Journey into Biblical Wisdom