MB Seminary works together with our national constituency to create devotional readings for the seasons of Easter (Lent) and Christmas (Advent). Each writer serves within an MB agency, conference, agency, or church. The chosen Scripture texts either span a book of the Bible or are taken from the Revised Common Lectionary.
"Thank you for the Easter devotions: day-by-day challenging thoughts, but even better, the sense of God's Spirit sanctifying the devotions. It was helpful to me and I feel blessed."
Joy Van Herwaarde
Edmonton, AB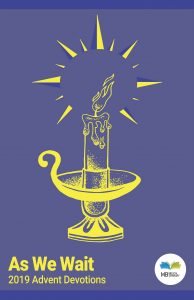 2019 – Advent
Our Advent 2019 readings are currently in production! This year's edition will be available as a free digital resource that you can download and access through an e-reader or app. You can also sign up to receive the devotion of the day by subscribing to our Daily Devotions list.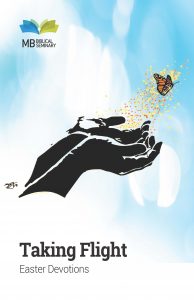 2019 – Easter
Taking Flight was designed for daily use during the season of Lent. Written by 47 individuals from the MB family across Canada, this book led readers through the entire Gospel of John from Ash Wednesday (March 6) until Easter Sunday (April 21).
Many of these devotions were previously published in MB Seminary's 2017 book called Believe, but this updated edition featured seven new entries and numerous revisions.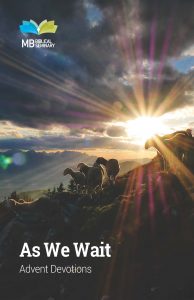 2018 – Advent
Our 2018 Advent book led readers through 24 daily readings from the Revised Common Lectionary (December 2-25). The devotions were written by member of our MB family from across Canada. Thanks to the visionary generosity of a financial supporter of MB Seminary, ten complimentary copies of this book were sent to every MB church in Canada.