THERE IS A PRESSING NEED FOR PASTORAL LEADERS:

MB Seminary regularly receives requests from churches inquiring about students available to fill pastoral vacancies. Unfortunately, almost all our current students are already working in ministry positions. The need for trained pastoral leaders is great and growing.
A CREATIVE SOLUTION: TEACHING CHURCHES:

MB Seminary is committed to meeting this need through our new Teaching Church initiative. Teaching Churches will bring seminary education to churches across the country and help fill the need for pastors and leaders by training them where they are, allowing them to serve and learn in their current context.
In June, we signed our first Teaching Church partnerships with two churches in BC's Lower Mainland. These churches will offer our new four-course Ministry Foundations Certificate, designed to jumpstart the seminary education of pastoral interns as well as equip and strengthen the ministries of other church leaders.
With 17 interns currently enrolled in our Ministry Foundation Certificate, we are making inroads into filling the pressing need that our churches face. Our vision, however, is not only for these 17 students but that Teaching Churches themselves will grow and inhabit every major region in our country. Imagine the impact the Seminary could make to fill the need for pastors and leaders across Canada!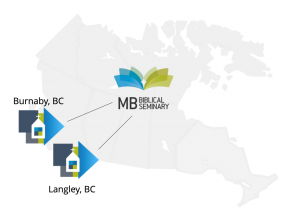 WE NEED YOUR HELP:
These students are like Timothy, who Paul addressed in 2 Timothy 1:6 with the encouragement to "fan into flame the gift of God." Through the education, equipping and mentoring they will receive from MB Seminary, these students' gifts and abilities will be identified, nurtured, and developed, enabling them to serve God wherever He calls them.
We need your help to shape these leaders together. Educating and equipping a pastoral leader is costly— tuition pays only 27% of the total cost!
Will you financially partner with us so we can, together, "fan into flame" the gifts and future ministries of these students? With your help, we can shape leaders and change lives together.
Fan into Flame
Will you financially partner with us so we can, together, "fan into flame" the gifts and future ministries of these students?
Donate Here
You could make an impact for the Kingdom of God! God's Kingdom advances through God's people, and your gift helps shape leaders and change lives in Jesus' name.
You could help equip men and women to serve churches in Canada and beyond! Effective mission requires effective preparation, and MB Seminary trains and equips women and men to lead the church and share the Good News of Jesus Christ. You can help us shape leaders and change lives across our country and world.
You could help make Christ-centered education and training more and affordable! Like all graduate education in Canada, tuition only covers a portion of the cost. At MB Seminary, that's about 27%. The rest comes from people like you who support the mission of training the next generation of leaders.
To donate by cheque, please mail your donation to:
MB Seminary
22500 University Drive
Langley, BC  V2Y 1Y1
To learn about other giving options, please visit our donation page.