New students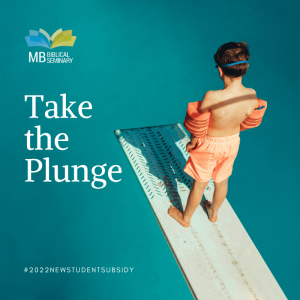 have another reason to feel good about getting their feet wet in seminary this upcoming fall. MB Seminary is offering students who are enrolled in any three-credit course a $400 subsidy. This subsidy is made possible through the generous provision of MB Seminary's financial aid program. 
Dr. Brian Cooper, MB Seminary's Director of Student Development, says, "If you're serious about investing in your ministry future, then we're serious about investing in you—and we're putting our money where our mouth is."
Interested students must complete this new student subsidy application to determine their eligibility and apply for the funds. All three-credit courses available through our partnership with ACTS Seminaries, a Teaching Church partnership, or online are eligible.
* This subsidy is valid for all new students at MB Seminary who register for a course in the Fall 2022 semester. These funds will be applied toward their course tuition following the add/drop registration deadlines.
---
[MB Seminary is the national seminary of the MB churches of Canada.