Master of Arts
Transformational Leadership
MA Transformational Leadership
A new degree program was approved by the MB Seminary Board and operationalized by the faculty and staff in 2022. The Master of Arts in Transformational Leadership will help learners grow in their love for God and develop practical skills for leading missional change in their relationships, churches, workplaces, and communities.
The heart of this degree centres around three certificates—Ministry Foundations, Ministry Transformation, and Ministry Engagement—each of which is contextualized to the learner's local ministry. In addition, learners will take the MB Story course and two electives to broaden their skills or focus on a specific area of interest. An applied ministry project is also required, which helps learners integrate theory into practice.
Students and and churches will each benefit as learners apply what they learn in their areas of ministry and develop capacity for greater missional effectiveness.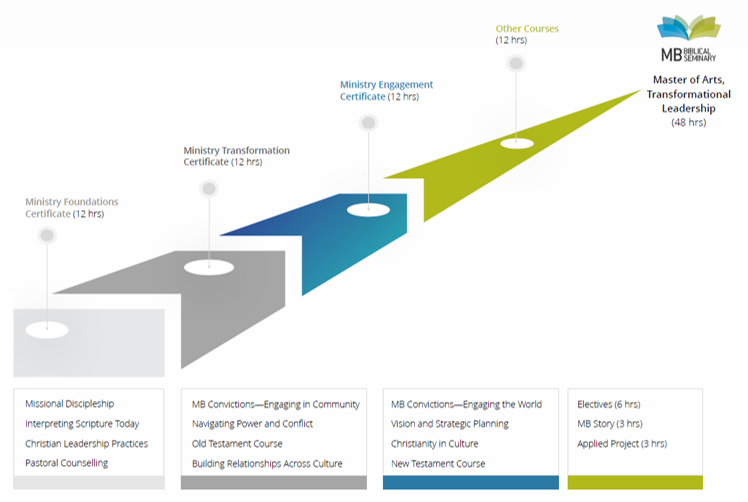 The MA in Transformational Leadership is a 48 semester-hour master's degree comprised of three four-course certificates (36 hours), two electives (6), MB Story (3), and an applied project (3). The certificates do not need to be taken sequentially, and students should be able to finish this program over three years through our Teaching Church partnerships and/or online delivery.
Ministry Foundations (12 hours)
DSC 510 Missional Discipleship
BIB 510 Interpreting Scripture Today
LDR 510 Christian Leadership Practices
DSC 605 Pastoral Counselling
Ministry Transformation (12 hours)
THS 510 MB Convictions—Engaging in Community
LDR 532 Navigating Power and Conflict
DSC 610 Building Relationships Across Culture
Old Testament Course
Ministry Engagement (12 hours)
THS 520 MB Convictions—Engaging in the World
LDR 534 Vision and Strategic Planning
THS 680 Christianity in Culture
New Testament Course
Additional MA Requirements (12 hours)
Course Elective
Course Elective
HIS 540 MB Story
INT 810 Applied Graduating Project