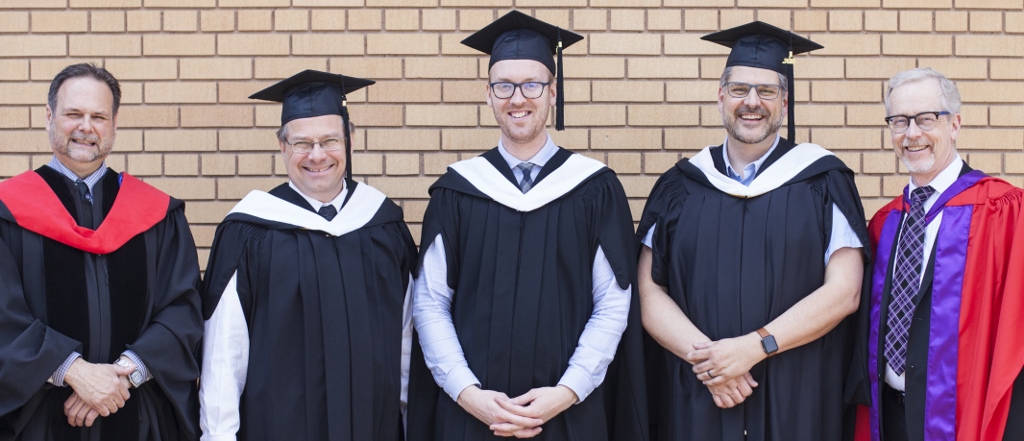 MB Seminary recognized its 2018 graduates during commencement ceremonies held in Langley, BC and Winnipeg, MB on April 21. Eleven degrees and two certificates were conferred by President Dr. Mark Wessner in Langley and Associate Dean Dr. Pierre Gilbert in Winnipeg. The ceremonies were held at Christian Life Assembly Church in Langley and Portage Avenue Church in Winnipeg. The dual celebrations were a testament to MB Seminary's dedication to train leaders who equip the church.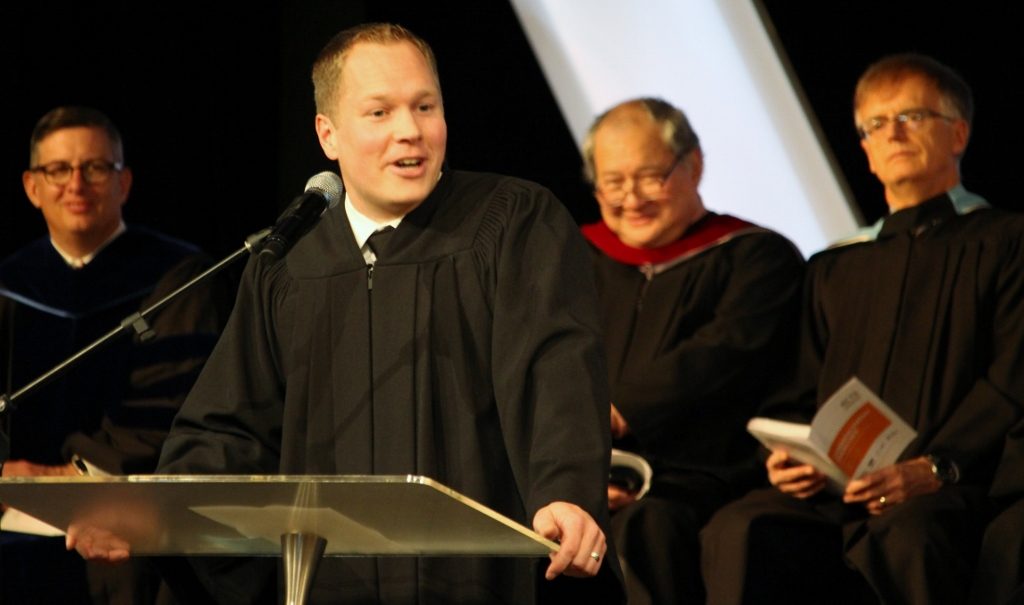 In Langley, MB Seminary's ceremony was done in partnership with the three seminaries who work together to make up ACTS Seminaries. MB Seminary's Craig Thiessen (MDiv), Co-Lead Pastor of Ross Road Community Church in Abbotsford, was asked to share a testimony on behalf of the student body. He expressed his gratefulness for the professionalism and personability of the faculty and described his educational experience as deeply theological and intensely practical.
Dave Heinrichs is another graduate who experienced transformation at MB Seminary. "I don't know why, but prior to enrolling at MB Seminary, I was feeling disheartened about ministry. I even thought about looking for 'greener pastures'. But in God's perfect timing, he led me to seminary and it was the challenge I needed. It gave me a new perspective on life and ministry."
As Heinrichs worked on his Master of Arts in Christian Studies, he found that much of his learning immediately transferred to his role as the Associate Pastor of Eagle Ridge Bible Fellowship (Coquitlam, BC). "I have used courses on books of the Bible to teach our congregation, classes on preaching and teaching have sharpened my skills in these areas, and people in my congregation have taken notice. Seminary has sharpened my critical thinking and helped deepen my appreciation for the MB Confession of Faith. Being a part of MB Seminary has also enlarged my network of people and resources I can call on to help equip the people I serve."
Graduates in Winnipeg offered a similar story to describe their seminary experience. Janelle Braun is using her Certificate of Christian Studies to direct her passion for leadership development within the Mennonite Brethren Church of Manitoba. "My faith has been strengthened and my dedication to the church, in all of its complexity, has been reaffirmed. Seminary has given me a framework in which to talk about the big questions, a safe place to explore what it means to lead and invite others into a faith journey with the Lord."
2018 Graduates, Langley (ACTS)
Andrew Bertram, Master of Arts in Marriage and Family Therapy
Keith Chan, Master of Arts in Christian Studies
Dave Heinrichs, Master of Arts in Christian Studies
Carol McLean, Master of Arts in Christian Studies
Courtney Teichroeb, Master of Arts in Marriage and Family Therapy 
Craig Thiessen, Master of Divinity
Gerrit Wiebe, Master of Arts in Christian Studies
Jesse Workman, Master of Applied Linguistics and Exegesis
2018 Graduates, Winnipeg (CMU)
Janelle Braun (Hume), Graduate Certificate in Christian Studies
Victor Engbrecht, Master of Arts in Christian Ministry 
Dave Ens, Master of Arts in Theological Studies
Kenton Penner, Graduate Certificate in Christian Studies
Denver Wilson, Master of Arts in Christian Ministry
MB Seminary is the national seminary of the MB churches of Canada.