Following Jesus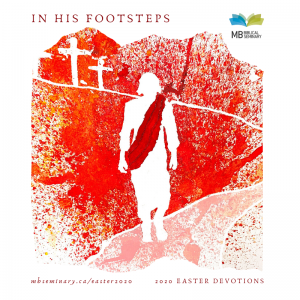 requires more than intention—it demands direction. And it's typically easier to stay the course when you have others travelling beside you and everyone can see the intended destination.
Choosing to journey together is one reason why MB Seminary has developed another devotional book for the upcoming season of Lent. In His Footsteps is a collection of readings from the Gospel of Mark designed to help you and others in your community engage with Scripture in meaningful ways. An assigned passage from the Bible is followed by a reflection from a member of our Mennonite Brethren family. Each entry highlights a theme that's easy to relate to—feeling like God is absent, dealing with unmet expectations, remembering someone who made you feel special, or wondering how you might die with dignity. 
"Thank you for the opportunity to share in these Scripture-targeted reflections. I have used the devotionals for as long as they have been available, and continue to appreciate the open door to God's heart which their words often provide. Thank you, MB Seminary, for leading the way in this respect!

Leila Hoffman – Highland MB Church, Calgary, Alberta
This resource is the sixth book designed for Lent in as many years. Please join us as we journey through the Gospel of Mark beginning on Ash Wednesday, February 26.  
Sign up to receive the devotion of the day by email
Download the resource as an ebook (available for a nominal price beginning on Feb 23)
Request permission for your church or ministry team to print hard copies (contact MB Seminary)
Additional information, including the Table of Contents, can be found by visiting mbseminary.ca/easter2020.
---