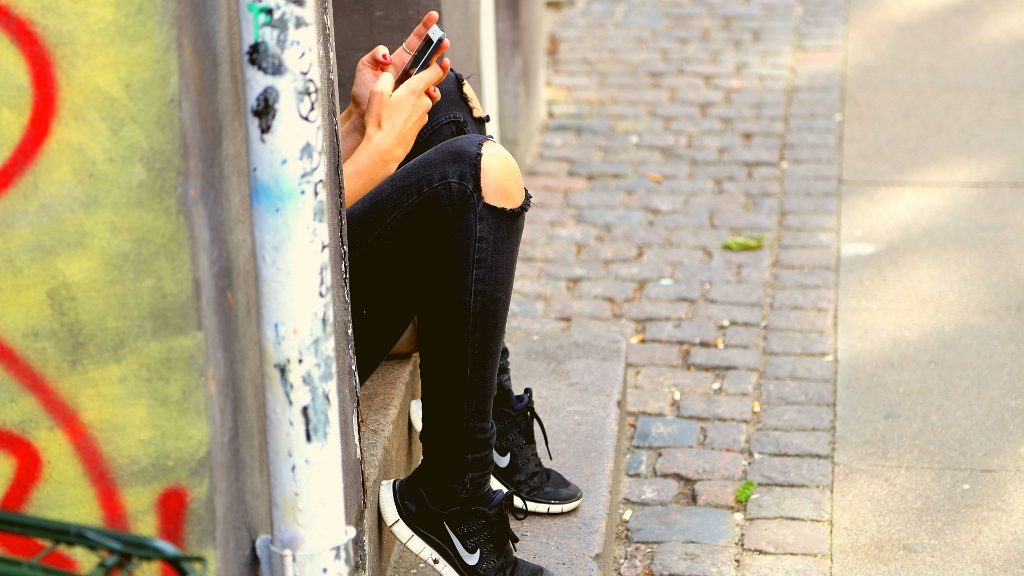 It's been just over a decade since YouTube launched (2005) and Apple released its first iPhone (2007). It didn't take long for social media to explode—Facebook, Twitter, Instagram, Snapchat, WhatsApp—which only increased the attraction of the online experience. Face-to-face interactions were quickly exchanged for messaging by devices. Daily events began to carry the weight of needing to be captured and shared with one's followers through screens.
By 2014, the number of mobile devices in the world exceeded the number of people. It's estimated that gadgets are now multiplying at a rate that's five-times faster than procreation. Added together, we find ourselves with more access to more screens than we know what to do with. Discarded phones are eagerly inherited by children to use as props during playtimes—partly out of interest and partly to mimic what they see around them.
What Do Teens Say?
Phones have even greater allure to teens and young adults—in fact, the attraction is so great that in a recent study, more than half of the teenage respondents (54%) said they spend too much time on their cellphones and 41% said they overdo it on social media.
Statistics can sometimes be used as scare tactics, but it's worth noting that the 13 to 17-year-olds in this study reflected on their current situations. When 60% tell us that spending too much time online is a "major" problem facing their age group, we should sit up and take notice.
And yet, could this trend simply be an updated version of the classic Nintendo era (1985-1996)—a time when adults couldn't fathom how children would ever land jobs when they wasted time griping game controllers and strategizing with friends on how to advance to the next level? (As a side note, it's somewhat ironic that many from that generation are now thriving in the workforce due to the skills they developed playing video games.)
A Trend or a Game-Changer?
Some are prone to believe that the latest technological innovations are destined to be game-changers while others assume there's nothing new under the sun. But what makes the newest statistics about screen use and young people so alarming is not simply the sheer volume of time. The cause for concern is the associated impact.

All screen activities are linked to less happiness, and all nonscreen activities are linked to more happiness. There's not a single exception.

Jean Twenge
In an article titled "Have Smartphones Destroyed a Generation" author Jean Twenge shares some truly disturbing research:
Students in Grade 8 who spend 10 hours or more on social media are 56% more likely to say they're unhappy.
The depressive symptoms in girls increased by 50% from 2012 to 2015; for boys, the symptoms increased by 21%.
57% more teens were sleep deprived in 2015 than in 1991. In just the four years from 2012 to 2015, 22% more teens failed to get seven hours of sleep.
Admittedly, there are multiple factors that may be influencing these numbers, and researchers can't provide conclusive evidence for a direct cause-and-effect relationship. But each report points to similar symptoms and parents should at least pause before giving young people free reign to devices and WiFi.
Digitally Distracted Parents
Regulating screen time and monitoring a child's activity are important steps for parents to take. But adults need to evaluate their own behavour first and then consider how this influences the action of the children around them. For example, Victoria Prooday, an occupational therapist, points out that instead of emotionally available parents, children have "digitally distracted parents". It's likely that our own behaviour (like browsing Instagram while your child is trying to talk with you) is a significant part of the problem!
Next Steps
Despite the challenges that electronic devices present to families, there are tangible steps that parents can take to protect and empower their children. Alisha Stobbe, marriage and family therapist, encourages parents to establish clear boundaries with their children and review these expectations regularly. These expectations should include how device activity will be openly monitored so that children and parents can build greater relational trust (she also explains why monitoring devices secretly will backfire on you). As this relationship matures, parents will gain more opportunities to equip their children to make wise choices so they can experience the positive aspects of new technology. 
MinistryLift can help you understand the impacts of screen time and equip you with internet safety tips during an upcoming simulcast event called Screen Time: Parenting in a Media Saturated Culture. Alisha Stobbe (RCC, MFT) is the plenary speaker and the event will be hosted by multiple churches throughout Canada.  …
---
[Keith Reed is the Director of MinistryLift for MB Seminary. He co-directs the Renovated Parenting Conference, a simulcast event that churches can host to equip parents. 
The research cited in this post is based on several articles: 
Even teens are worried they spend too much time on their phones – Jenny Anderson
Have Smartphones Destroyed a Generation? – Jean Twenge
Screen Time and Mental Health: Simple Life Hacks for Raising Resilient Kids – Ashley Beveridge
A Conversation: Monitoring Your Child's Devices – Alisha Stobbe
…