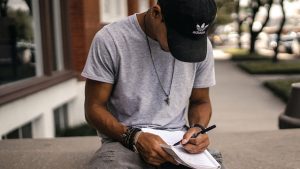 How much time do you spend preparing a study for your small group? 
In my experience, most small group leaders spend a disproportionate amount of their prep time on the study. I know I've done this—especially when I feel I'm short on time. I do it because the study time feels like the one time when I'm "on" as the group leader. If I'm not prepared, people will just sit there and stare at me. If I don't have an activity ready, the time will mercilessly drag on. Who wants to face that setting with nothing prepared? I know I don't. Which is why I fell into the habit of using most of my prep time getting study questions ready. 
Study time isn't the only time
The problem with this approach is that small group meeting times are much more than just a study. Time is divided into many activities—there's socializing and eating and maybe an ice-breaker too. Group members sometimes give updates on their lives and prayer requests are usually shared. These activities are ripe with potential for relationship building, edification, and transformation. But are you spending any time preparing for them?  
Leaders often assume that their group's study time is the most important time of the meeting. But would this view be shared by their group members?
My guess is that nearly everyone in your group didn't carve out a night in their calendar to increase their Bible IQ. 
They're likely looking for something else. Spending the bulk of your time and energy on a Bible study will give your group a Sunday school experience in someone else's living room. Will this really make a difference in people's lives? 
Less learning, more living
Most people don't need to learn more, they need to live more. They need people to pray with; they need people to challenge them; they need people to share their victories and frustrations with; they need people to stick with them when they fail. Preparing a study isn't a bad thing; it's just not the only thing.
When small group researchers Jim Egli and Dwight Marable surveyed more than 3,000 group leaders, they made a fascinating discovery: "Time spent preparing the lesson shows absolutely no correlation to any of the group growth outcomes." That's right—no correlation!

Preparation is only valuable if it makes a difference. That's why I recommend cutting your study prep time in half and using your extra minutes on outcomes that will actually help your group grow (here are 5 ways to improve your small group prep time).  
If you're like me, this won't stop you from feeling nervous about group members staring at you during the study time. If the thought of feeling underprepared just raised your anxiety level, you'll feel better having some discussion questions on-hand that can work in almost any situation. These questions come from Egli and Marable's book called Small Groups, Big Impact and are further developed in a training session offered through MB Seminary called How to Develop Great Questions. 
What stands out to you in this passage?
What do you think the author was trying to say?
Can you illustrate this truth with an example from your own life?
What is one thing you feel led to do? 
What has kept you from living out this principle in the past? 
How can our group help you follow through on your next step? 
As you can see, these are open-ended questions that invite group members to think carefully before they respond. You'll find they'll create conversations, follow-up questions, and action steps that will increase group participant, cohesion, and growth.
Do you need help building a small group ministry that's designed for outreach and growth? MB Seminary has training that can be customized to fit your context. Take 3-minutes to let us know how a training expert can resource you and your church.
---
[Keith Reed is the Director of MinistryLift for MB Seminary.